It's baaaaaaack!!! That's right, Boy Band-A-Thon is back with a whole new set of Boy Bands and a whole new set of prompts. I'm excited to say I'm hosting again, especially after having such a great time during the first round in January. If you know anything about music in the 80s/90s, then you'll know these two groups without a doubt. We'll be battling it out for the title of the best for the entire month of May. Which bands are we defending you ask???
That's riiiiight. We're taking it old school with a battle between New Edition and New Kids on the Block. I'm so excited for this and in case you're wondering which team I'm leading, let me give you a hint: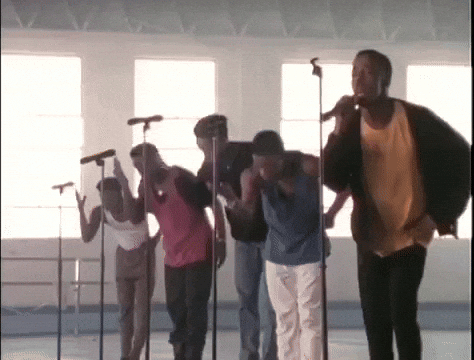 The rules and premise are basically the same as the last round. All of the prompts are based on some of these bands biggest hit songs. Don't worry, the prompts are completely optional and any book that you read during the month will count towards your pages. Finishing the prompts will just earn you a few extra points. There's a spreadsheet where you can keep track of everything, including pages, prompts, and info on the readathon. The only caveat is you can only read one book per prompt, so no doubling up. We're on the honor system guys because of course everyone wants to play totally fair. Whichever team has the most read pages by the end of the month is the winner and will forever be able to say that their boy band is the best….for now at least. You can find the prompts below (shout out to Lorryn @ReadingParental for the awesome graphics)!
As for the links you need, well of course I've got those too!
Can't wait to see you guys there!