Read for:
-Book Tour
-Honest Netgalley Review
-PopCReadathon
-#ARCApocalypse
-StartOnYourShelfathon
Content Warnings: Racism, racial slurs, police brutality, microaggressions, colorism, destruction of property, civil unrest, cheating, depression, suicide, historical genocide, violence, racial stereotypes
About the Author
Christina Hammonds Reed holds an MFA in Film and Television Production from the University of Southern California's School of Cinematic Arts. Her short fiction has previously appeared in the Santa Monica Review. She lives in Hermosa Beach, CA. Goodreads, Website, Instagram
Official Publisher Summary: Perfect for fans of The Hate U Give, this unforgettable coming-of-age debut novel explores issues of race, class, and violence through the eyes of a wealthy black teenager whose family gets caught in the vortex of the 1992 Rodney King Riots.

Los Angeles, 1992

Ashley Bennett and her friends are living the charmed life. It's the end of senior year and they're spending more time at the beach than in the classroom. They can already feel the sunny days and endless possibilities of summer.

Everything changes one afternoon in April, when four LAPD officers are acquitted after beating a black man named Rodney King half to death. Suddenly, Ashley's not just one of the girls. She's one of the black kids.

As violent protests engulf LA and the city burns, Ashley tries to continue on as if life were normal. Even as her self-destructive sister gets dangerously involved in the riots. Even as the model black family façade her wealthy and prominent parents have built starts to crumble. Even as her best friends help spread a rumor that could completely derail the future of her classmate and fellow black kid, LaShawn Johnson.

With her world splintering around her, Ashley, along with the rest of LA, is left to question who is the us? And who is the them?
Book Review
Thank you HearOurVoices Book Tours, Netgalley an Simon and Schuster Publishing House for the opportunity to honestly review this advanced cop and participate in this book tour. And thank you to Christina for writing an amazing book that honestly keeps on giving. The Black Kids tells a story not only of racial injustice, but what it's like coming of age during a time where you're unsure of where you stand in the world. Ashley has always been "the black girl" among her friends. Taking the little microaggressions in stride, trying not to let them get to her, thinking of the other black kids she encounters as the "them", not because she doesn't realize she's black, but because they aren't what she knows. After all, she's known her friends since they were kids and yeah they may say dumb shit, but they don't mean any harm right? And considering the privileged life she's been able to lead, she probably doesn't have a right to complain. That's part of the reason she has such a hard time connecting to her older sister. Jo wants to fight injustice, but has she ever really experienced injustice? After all, how many Black kids get the opportunity to crash not one but two luxury cars? So yeah, maybe Ashley doesn't feel like she and her sister have a right to complain, but that doesn't make what's going on right.

With Rodney King's beating and trial going on, suddenly things that Ashley never tried to give much thought to are popping up more and more. She's not only dealing with prom, graduation, and the prospect of college, but now people all over the city are angry. Suddenly her safe sheltered world is anything but. There's rioting in the streets, neighborhoods are being burned down, protests are being held throughout the city, and Ashley's quiet little neighborhood is feeling the effects. It soon becomes clear that Ashley can't stay neutral for long. Not when things are reaching their boiling points and her mistakes are bubbling to the surface.

The biggest thing I enjoyed about this book was the fact that we got to see Ashley learn and grow along the way. She's not the perfect teenager and she messes up countless times. From the beginning, it's clear that she's bothered by the little comments her friends make or that her Blackness always seems to be a joke or fun fact, but she never confronts her friends about it, because what good would it do? They don't mean any harm right? Wrong. Microaggressions still hurt, no matter who they come from, no matter what the intention. Ashley eventually realizes this when she commits a microaggression of her own that she can't take back. Suddenly she's learning just how much destruction words or casual comments can cause when said to the wrong people or with the wrong tone.

We follow Ashley as she moves along her journey and comes to understand who she is. She's not just learning about and witnessing racial injustice, but dealing with being on the outs with her sister during a crisis, keeping a secret from one of her best friends, boy trouble, parental expectations, and having to come to terms with the woman who helped raise her leaving to return to her own family. Not to mention her family being directly impacted by the riots in LA. Ashley is attempting to find her place in the world and it just so happens that that world is imploding.

Overall Ashley learns some hard lessons and family secrets along the way and I truly believed she comes out on the opposite end, not completely grown, but showing signs of definite growth. It's hard being a Black woman in this country, but Black Girl Magic is a beautiful thing to witness.
#OwnVoices Review
From the moment I saw the cover for The Black Kids, I knew that I had to read it. It's gorgeous right? Don't worry, I don't need you to tell me. I already know. What was even better was that after reading the description, I knew that this was not only going to be a great read, but an impactful one as well. Let me say, that I was barely even thought of when the Rodney King video was broadcast for the world to see, considering I wasn't born until later that year. Even still, you'd be hardpressed to find a Black person of any age who has not heard of Rodney King, seen the video, or isn't aware of the impact that his unlawful beating and the subsequent acquittal of the officers caused in our communities and throughout the country.

Even worse is the fact that despite this occurring almost 20 years ago, it seems that as Black people, we've made very little progress when it comes to police brutality. Trayvon Martin. Eric Garner. Michael Brown. Tamir Rice. Walter Scott. Philando Castile. Stephon Clark. Charleena Lyles. Aiyana Stanley-Jones. Freddie Gray. Breonna Taylor. George Floyd. All victims of police brutality in recent years and yet there are so many names that you don't hear about and too many names to count. This is only 12 names. TWELVE OUT OF HUNDREDS. NO THOUSANDS. Think about that for a minute. Think about the fact that Christina Hammonds Reed wrote a book set in 1992 and yet every single scene in this book could've been ripped from the headlines surrounding George Floyd only 2 months ago. If that doesn't send a jolt through your system, I don't know what will. Black bodies have been weaponized, harassed, and abused for hundreds of years and it looks like there's no end in sight.

Now combine that with normal adolescent problems and magnify it by 100. Being Black in America isn't easy. We have to be twice as good with half the resources. Hell, Ashley had plenty of resources and still had to be twice as good. She even mentions it several times. That's drilled into the minds of Black children everywhere from the very beginning because the world doesn't make allowances for Black people in any space, way, shape or form. Case and point: it's clear that Ashley is smart and does well in her classes. So well in fact, that one of her friends is constantly attempting to copy her work. And yet, Ashley's friends are constantly saying things like "you're so lucky you're black" because it means she's guaranteed to get into college, not on her merit, but because of affirmative action. Bullshit right? Right.

One incident that really resonated with me was an interaction between Ashley and one of her friends where her White friend states "Well you're black, but not blackity black."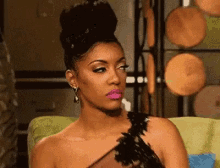 I had an experience like this in college. I had a white roommate my freshman year and because I didn't know a lot of people, I spent the first month or two of school hanging out with her and our neighbor in the dorm. I distinctly remember walking campus one day and coming across a group of Black students who were hanging out, playing music, and basically having a bomb ass time. My roommate proceeded to say "You know, I was worried, but I'm so glad you turned out to be cool." I had no idea what she meant, so I asked. "Well you know, because your Black! The Black kids at my school were so ghetto, but you're not that type of Black, you're like one of the good Black people. Not super loud and all that." Want to see my face?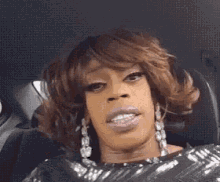 I couldn't believe she'd said that to me. Are you serious??? I immediately told her that I didn't know wtf she was talking about, but that was rude AF and I was definitely Black AF. I also politely told her that she didn't need to say that again because someone else won't be as nice as me, aka, she'll get her ass beat out here. Of course she apologized, but she laughed it off because to her, it wasn't a big deal. It's also worth noting that she also later asked me if I was one of those Black girls who didn't like getting their hair wet and did some other outrageous mess later in the year that had me cussing her out and threatening to beat her and her BF's ass and she promptly moved out before the end of the semester.

The point of this story is that this shit happens time and time again, so when it happened to Ashley, I was outraged and yet I chuckled because yes sis, I've been there. It's wild the things white people will say to you whether they are your friends or not.

Overall, even though I didn't grow up on the same coast or in the same type of household that Ashley did, I absolutely related to her. This story in general from the microaggressions to the outright aggressions we face as a Black community just hit different for me and I'm so glad I was able to read this novel. I encourage every one no matter what your race, age, ethnicity, or culture to pick up this book because….WHEW, even though it's not our job to educate you, you just may learn something.
Book Inspired Playlist
When I signed up for this book tour and chose the inspired playlist as my creative content option, I just knew I was about to fill it up with NWA, Public Enemy, Ice Cube, Tupac, and a series of other West Coast centric songs that expressed just how much police brutality pisses me off. Jokes on me because this playlist morphed into so much more. This book opens and closes with the vibes of Will Smith and DJ Jazzy Jeff's classic Summertime, which everyone knows is the official anthem of every summer. It moves with the flow of Solange's Crane's in the Sky and F.U.B.U, hits the classic that is My Little Secret by Xscape and even pulls from the vibes of ChloexHalle's Lonely. There's no way I couldn't include BROWN SKIN GIRL by queen Yonce and princess Blue because with a discussion of race and colorism that we see, it'd be a crime. And of course there's my boo Tupac, but trust me when I say, it's not the track that you're expecting. Marvin Gaye, TLC, Michael Jackson, Aretha Franklin are just a few other artists you'll find on the list. There are 23 songs on here and not one is a miss.

Overall this playlist is just a vibe of songs that popped into my head as I was reading. Some were mentioned, but most weren't. Each song on this list felt like a song with a connection to the story and I just hope that ya'll enjoy the vibes. Check it out! You don't have to listen to it in order, in fact I suggest just putting it on shuffle and letting it do it's thing.
In Closing….
Listen, this is a great read that I think will do a lot of people some good. It'll shine light on an experience that should be talked about time and time again because it hasn't gone away yet. Until we talk about these things, how can we fix them? I hope this isn't the last book Christina writes and I look forward to what she gives us in the future.

In the meantime, run, don't walk, and pick up this book when it's released in a few days on August 4th.
Goodreads | Amazon | Barnes & Noble | The Book Depository | Kobo | Google